Detta evenemang har redan ägt rum.
Gothenburg – December 6th
2019-12-06 @ 21:00

-

2019-12-07 @ 03:00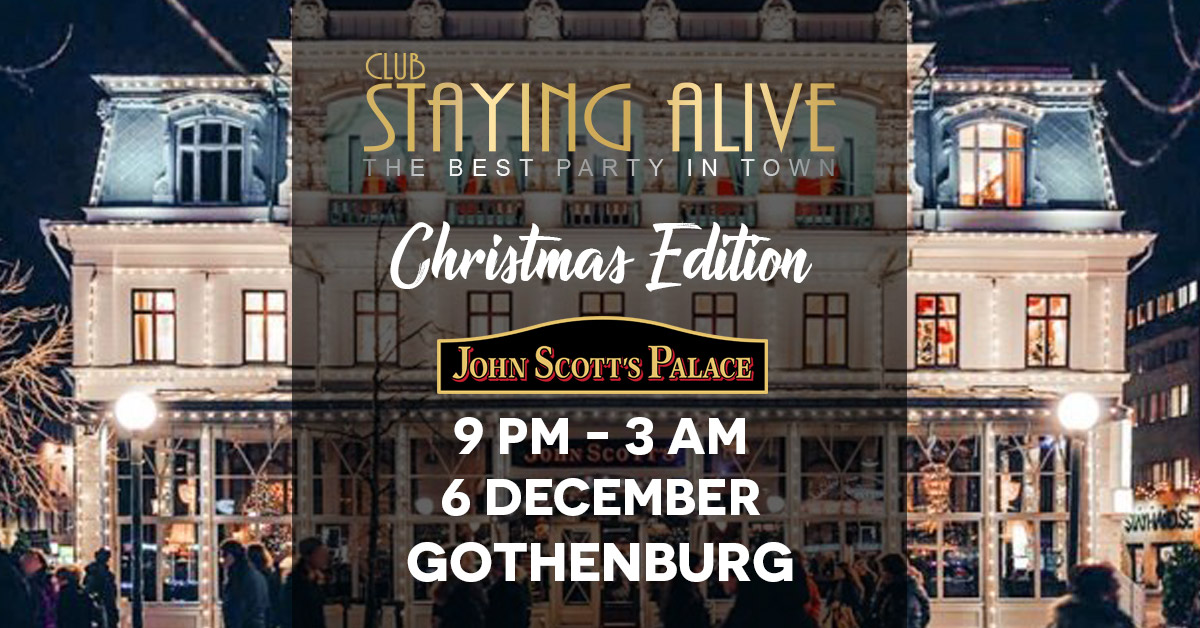 1 PARTY | 2 DANCE FLOORS
X-MAS EDITION!
Due to Christmas table, have we change the open time for this event to 9 PM – 3 AM.
For more information and booking, contact John Scott´s Palace by phone 031-807550 (09-16 weekdays) or by mail at bokning@palace.se
Served with start time between 18:00 – 19:30. 399 – 699: – / person
FOR SIGNUP DOWNLOAD OUR APP!
www.clubstayingalive.com/app
And use the fast track…..
DANCEFLOOR
From 9 PM unless otherwise stated.
ENTRANCE
Most of our events are free and therefore also very popular and crowed. If you hate queuing, come early if you want to avoid queuing and get in.
Those who have registered throughout our app, can use the fast-track and have priority to get in, as far as space allows.
If there is no local agreement otherwise throughout the evening.
RECOMMENDED AGE LIMITS
After 7 PM + 30
OPEN TIME
9 PM to 3 AM
Stay Late Join the After Party at Palace Midnight – to late.
INFORMATION
* [You must be logged in and only valid for personal use].
About the venues
Tearms & Condition
http://www.clubstayingalive.com/terms-conditions
Take care and make us happy.
like share and be there.
Club Staying Alive – The Best Party in Town!
Take care and make us happy, like share and be there.
Micke | Moses | Thomas – Tarja
Moa with staff.
www.clubstayingalive.com